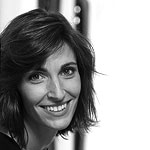 Laurence Bonnel was born in Paris where she is currently living and working. After her studies in Sorbonne University in art & literature, Laurence turned into sculpture in 1998 and learned many different technical approaches from several Masters: modeling, carving, soldering, foundry, patina.
Human body takes an important place in Laurence's art, reflecting the complexity of human being's relationships and interactions. By duplicating lines and shapes, Laurence creates motion in sculpture and explores the unpredictable transition from a physical and emotional state to another. Laurence's always focusing on the quintessence of the movement and experimenting new technical methods. Shape embodies every simple gesture.
In 2003, her first exhibition took place in NOSE gallery, Paris and Bruxelles. After showing 3 sculptures in the Grand Palais, Paris in 2006, she exhibited in the Jane Griffiths gallery in Val d'Isère and Marie-Laure de l'Ecotais in Paris. Laurence also exhibited in Fuxin gallery in Shanghai, Las Vegas, New York and presented her work during international artfairs in 2010 and 2011. Her sculptures are showed in France, Geneva, Gstaad, Rome, Milan, Madrid, Barcelona, London and New York.
The DATRIS foundation for contemporary sculpture in L'Isle-sur-la-Sorgue bought a monumental piece in 2010.
In 2012 Laurence made a 30 meters high installation for a private collector house and recently placed a 13 Silhouettes sculpture in the lobby of Hôtel de Paris in Saint Tropez, France.
Exhibitions
DIMENSION Group Exhibition | December 03rd 2014 – January 17th 2015