For the first time ever, artists Nano4814 and Hell'O Collective come together to combine their intricate and abstract worlds for a highly anticipated exhibition. Avenue des Arts is delighted to introduce "Double Edged", a series of pieces by all artists celebrating the differences and similarities of their works and how they interact with each other. This exhibition is set to run March 14th – April 4th of 2020. An opening reception for this exhibition will be held on Saturday, March 14th from 6:00 pm to 9:00 pm.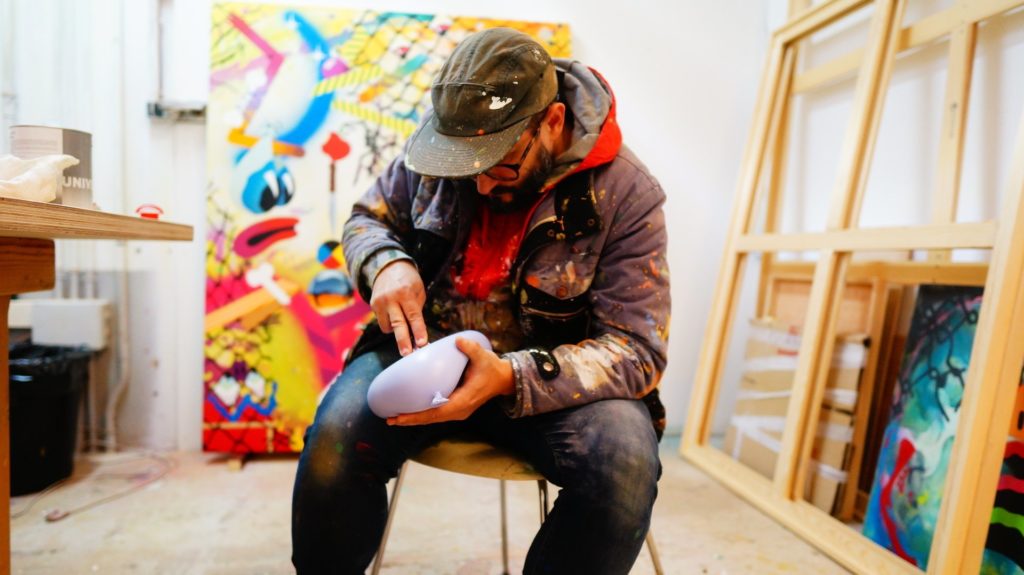 Nano4814 started with an interest in the traditional style of graffiti and street culture. Through more than 25 years of creative work he was able to develop his own aesthetic with his unmistakable abstract pieces. Working with multiple mediums, such as paintings and sculptures, Nano4814's intricate, pop art like compositions creates a saturated realm with interacting elements that often support and oppose each other.
Starting off as friends, both artists Jerôme Meyden and Antoine Detaille joined together to form Hell'O Collective. Most known for their geometrical and abstract surrealism, Meyden and Detaille bring their individual techniques together to create their own imaginary world with mixed elements and humanoid figures, composing juxtaposed narrative pieces.
Hell'O Collective's use of color is more muted and intentionally restricted whereas Nano4814's is far more vivid and polychromatic. Despite these differences, all artists similarly create a message amidst their work with multiple possibilities of interpretation, often having meanings on both sides of the spectrum.
More than 20 pieces by all artists will be featured at Avenue des Arts with various frameworks including canvas pieces, paper works and sculptures. These pieces created by Nano4814 and Hell'O Collective come together as both a confrontation and mutual admiration that represent the conclusion of a dialogue. Among these pieces which have been individually worked on by Nano4814 and Hell'O Collective this exhibition will also display collaborated pieces as well as a coproduced mural.
RSVP NOW
Artists:
Hell'O Collective
Nano4814
Gallery:
Avenue des Arts
807 S Los Angeles St
Los Angeles, CA 90014