Los Angeles, CA. (September 9, 2017) Avenue des Arts (807 S Los Angeles street. Los Angeles CA 90014) is delighted to host and present "There's a New Villain in Town", a solo exhibition by Cuban-American artist, Coinslot. This exhibition will run from September 9 – September 23rd, 2017. There's a New Villain in Town, will be Coinslot first show in Los Angeles.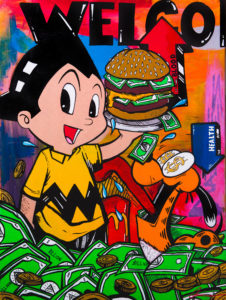 "Super Size Me" 28×22
Avenue des Arts will showcase 20 different Original works by Coinslot along with 15 previous works of his. "Super Size Me" 28×22 print, (edition of 100/ 20 hand embellished / 5 AP), will be release during the opening night.
For Coinslot, The ability to manifest thoughts and being able to transfer it onto paper into reality is a gift given to chosen few. It's up to the artist to seek truth and shed light trough his artworks on controversial subjects. Coinslot latest body of work consist of fictional characters being brought out their perfect lives, to be thrown into the reality we live in. The same fictional characters that where created to bring joy shall suffer at the expense of our struggles and sadness.. Bringing two alternative universes clashing together as one.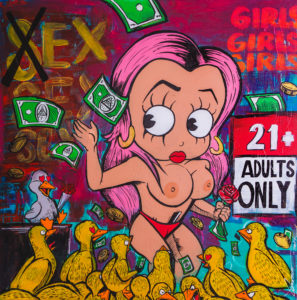 About Coinslot
Coinslot is a first generation Cuban American born and raised in Miami, Florida. Coinslot's work depicts the dark twisted reality of modern day society.
The artist merges political satire with animated characters to portray his point of view on world issues. Through the use of vibrant colors and sharp lines Coinslot aims to imprint his work into his viewer's mind.
Coinslot is unequivocally the voice of the emerging artist.
In 2016, Coinslot collaborated with the Miami Marlins to curate a show in an effort to raise awareness in the community about the importance of art programs in public schools. Today, Coinslot resides in LA where he continues to create thought provoking images on canvas.